January Market Update
Posted: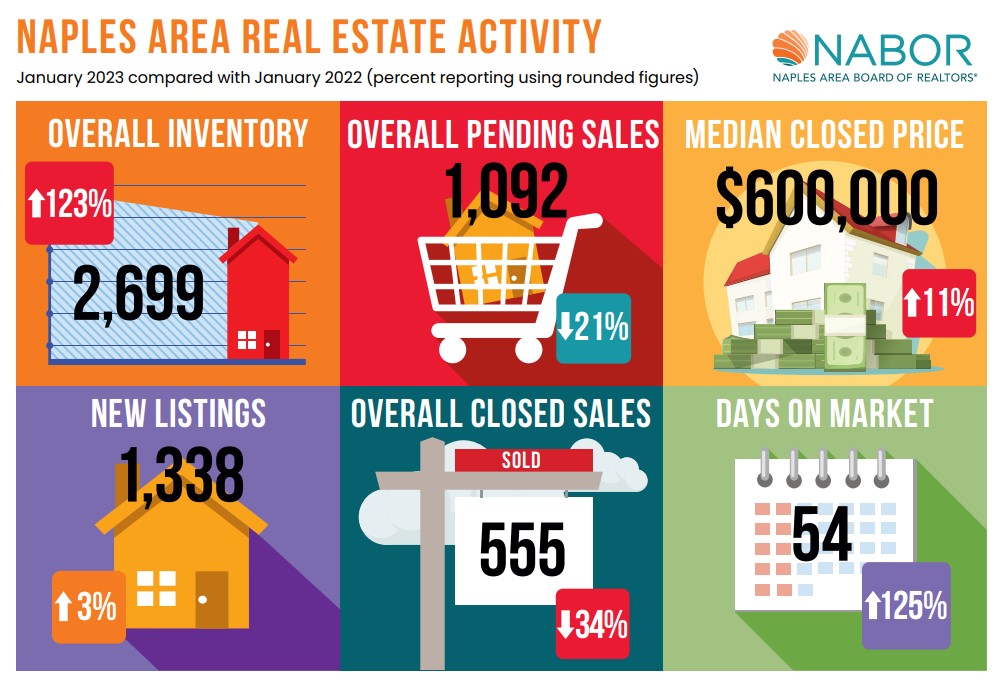 Naples, Fla. (February 24, 2023) – Evidence of growing confidence in the Naples real estate market revealed itself in January as a wave of new sellers entered the market during the month. New listings in January rose 74.5 percent compared to December 2022, and 3.2 percent to 1,338 new listings from 1,297 new listings a year ago according to the January 2023 Market Report by the Naples Area Board of REALTORS® (NABOR®), which tracks home listings and sales within Collier County (excluding Marco Island). But the rise in home options during January did not stymy home values as median closed prices rose 11.1 percent to $600,000 from $540,000 in January 2022. (NABOR Market Report, January, 2023)
New inventory is hitting the market every day making this an exciting time for home buyers.  The Loveall group checks new listing on a daily basis to ensure their buyers get to see homes that match their needs as soon as they come on the market.
With an increased inventory, it's important to have a Real Estate agent who focuses on marketing your home. The Loveall Group uses a comprehensive marketing strategy when listing homes that includes traditional marketing, such as yard signs and open houses, and a strong digital marketing presence, with virtual tours, social media, and email marketing. 
Call or text the Loveall Group today at 239-293-2045
For more detailed information about market trends click on the links for your are below:
Bonita/Estero –  CLICK HERE
Naples –  CLICK HERE 
Marco – CLICK HERE
Ft. Myers –  CLICK HERE
Cape Coral –  CLICK HERE